Commercial Cleaning Services
We provide commercial cleaning services throughout Christchurch and surrounding areas, including Rolleston, Lincoln, Rangiora, and Woodend.
Whether it is a single floor dwelling or a multi-storey complex, your windows will sparkle when you use our window cleaning service.
With our Pure Water System*, we can clean high windows safely from the ground. No need for high access equipment, saving you time and money.
Our specialised products can also remove staining from windows caused by hard water. Giving them that brand new look again.
Pre-architect inspections, builders, and sparkle cleans for the client: we will show your best work by carrying out our best work! High access areas, guttering, exterior washdowns, carpet cleaning and floor buffing: we can do them all to a quality finish. You only have to deal with one company to have all your cleaning needs sorted.
Sites that we have completed final cleans for the builder, ready to hand over to the client include: large commercial builds, shop fit-outs, schools, specialised medical facilities, new high spec apartments, social housing complexes, residential houses.
The list goes on*.
* See our Gallery for more.
From the very first day on the job, keeping your worksite clean and well supplied is imperative for happy staff!
We can clean your site shed portacoms and/or toilet blocks weekly or as required.
We source the most economical supplies for you and restock them when they get low.
Our staff are fully trained to use elevated work platforms and mobile height equipment such as knuckle-booms, scissor lifters and cherry-pickers. They are competent in using harnesses, fall-arrest systems and rope access equipment for the direct cleaning of building surfaces and windows.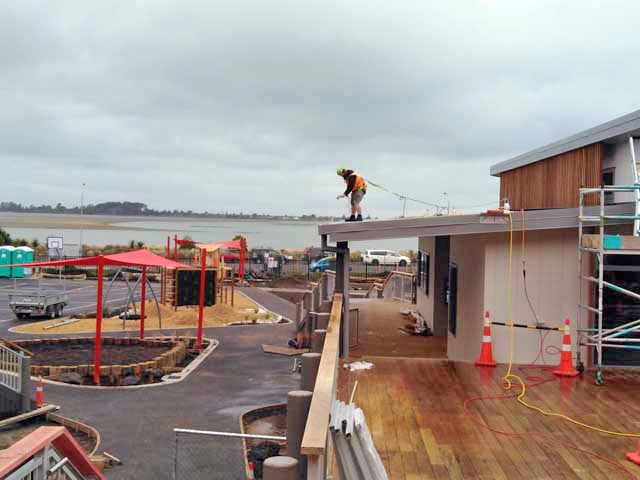 Building Washdowns & Pathways
About to hand over your building to the new owners or require a clean to keep the guarantees current? We are here to help and will make those surfaces sparkle.
Cobwebs and bird excrement on exterior surfaces a problem? We can remove them. We can also water-blast pathways and decking areas using high or low pressure, depending on the surface type, leaving them looking fresh and safe to walk on again.
End of Tenancy Cleaning
Ending your lease? Moving out? We can give your place a quick or a detailed clean, whichever fits your budget.
Gutter Cleaning
Single storey or higher with high access equipment or scaffolding in place, we clean inside and outside of all guttering.
Carpet Cleaning
We can remove small stains and arrange a trusted carpet cleaning firm to do the job for larger areas or stubborn stains.
Floor Buffing
Leave it to us to make vinyl sparkle, removing dirt and grime, leaving a shine just like new.
Project Manager?
We can project manage all aspects of your cleaning project. Give us a call to discuss what you need, and when, we will take care of the rest.
Business owner?
Require regular window cleaning, building washdowns, an end of lease clean? No problem, give us a call to discuss when we can take care of it for you.
Property Manager?
End of tenancy cleaning, window cleaning, building washdowns, pathway and driveway water-blasting – anything that requires cleaning. We can take care of it for you.
Real Estate Agent?
Tenancy refresh, window cleaning, building washdowns, pathway and driveway water-blasting. We can ensure the property is looking spick and span for that open home or new occupiers.
Body Corporate?
Keep your residents happy with our regular cleaning of common areas, building washdowns and cleaning of pathways.
Motel/Serviced Apartment Owner?
We have staff available who are experienced in cleaning serviced apartments/ complexes or motels. Whether it be daily servicing, checkout cleans or supply of cleaning products; we can help.  All of our staff are security checked as part of our employment process.